Forgot To Thaw ? No Problem. Here Is How To Cook Your PureFish From Frozen
January 13 2021
·
January 13 2021
·
Step by Step Healthy Recipes - Ready In Under 20 Minutes
Forgot To Thaw .. No Problem We Thought Of That ...
How To Cook Your PureFish From Frozen
This is one of our favorite cooking methods for most of our fish, but it can also help you in a pinch if you forgot to thaw your PureFish in the fridge a few hours earlier.
This method steams the fish and yields juicy, tender results for everything from salmon, steelhead, toothfish, and sea bass.
Since our trays our oven ready already, we have made this method even easier, b y just having to add some aluminum foil, which we all usually have in our kitchen already.
Like us this will become a "go to" and the recipe variations you can do are almost endless, just change the ingredients you cook with your fresh to freshen it up from time to time.
This recipe can be used for already thawed portions, just subtract 5 minutes from cooking time as the fish is already thawed.
Instructions For All Fish
* Cooking time may very from fish to fish based on texture & fat content, so don't be worried, just caution on less time at first.
makes 2 servings  ready in 20 minutes 
ingredients:
1 tray of Bass Portions
1/2 teaspoon fine sea salt
1/2 teaspoon ground black pepper
2 teaspoons butter, ghee, or extra-virgin olive oil
1 1/2 tablespoon chopped fresh thyme, oregano, rosemary or flat-leaf parsley (substitute with dry herbs if needed)
1/2 cup sliced hearty vegetable like zucchini or anything you like
Pro Tip: thicker cuts and "drier vegetables" will be less "mushy" after being steamed and still have a slight crisp, so choose to your likening.
Step 1 Transfer PureFish Perfect Portion Tray from the freezer, peel back the protective film and discard. (If cooking below 375ºF, you can leave pad under fish, if cooking above 375º F remove pad from under fish).
Step 2 Remove the tray from the freezer, peel back the protective film and discard film & label. Preheat oven on bake to 400ºF. 
Step 3 Cut a piece of foil so it covers the entire tray and overhangs at least 1" around the lip of tray.
Step 4 Season fish with salt and pepper and drizzle with olive oil or butter. Sprinkle portion with herbs and scatter additional ingredients, if using, over the top or around the portions.
Step 5 "Crimp" foil to seal under lip of tray around entire rim of tray. Make sure to seal as best as possible, because the better the seal, the better the results as we are creating a "oven" inside the oven to steam the fish from frozen.
Step 6 Place sealed tray into oven, and cook for 12-15 minutes. (Cooking time may vary from oven to oven).
Step 7 Remove from oven. * Be extremely careful when opening as steam inside can cause sever burns so we recommend using tongs or a utensil.
Transfer fish & vegetables to plates. Also clean up is a cinch as when you are finished just recycle the oven ready used tray & foil together.
Now you have a healthy & nutritious sustainable seafood meal from freezer to Fork in under 20 minutes, and best of all No Dirty Dishes!
PureFish makes it easy.
---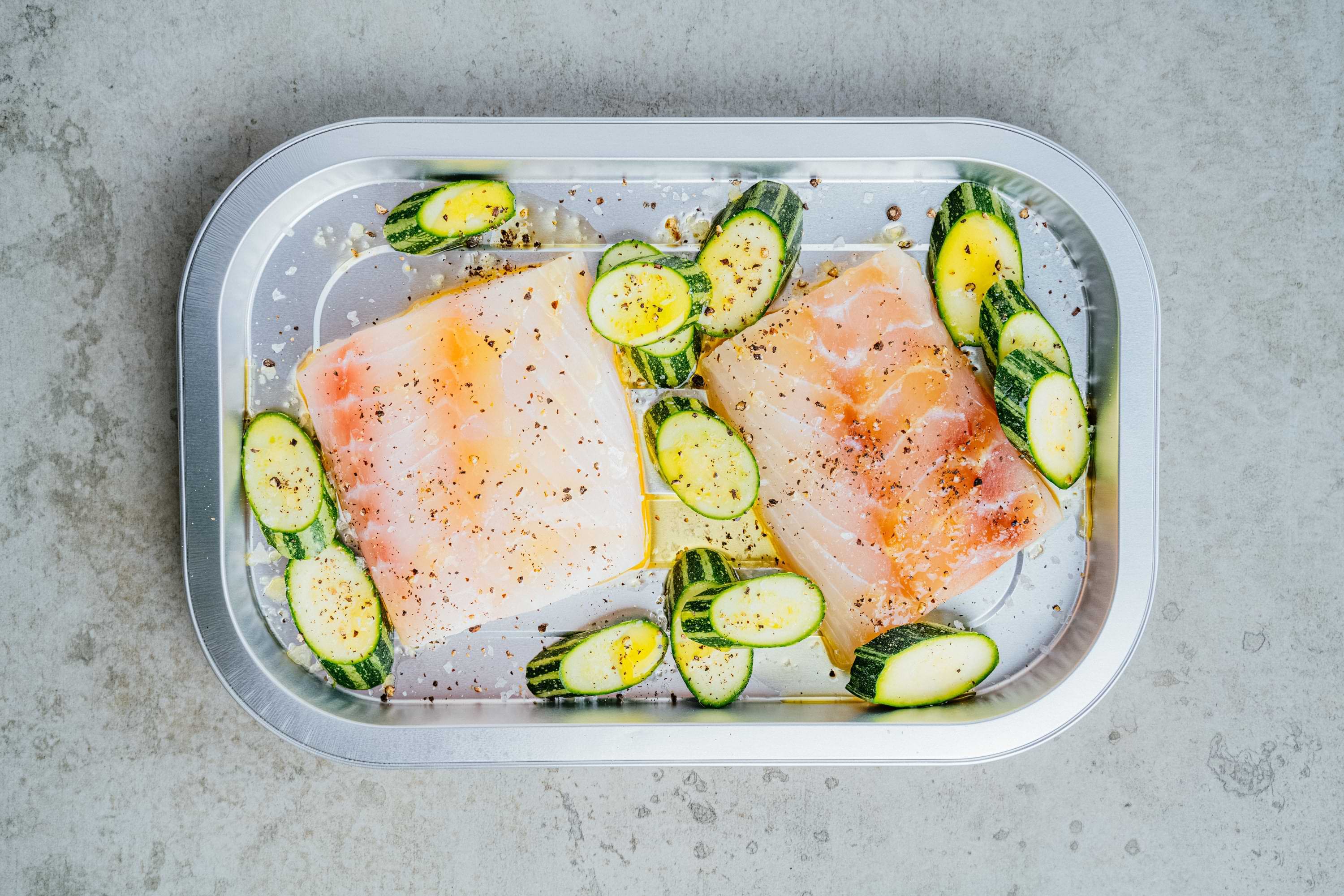 "PureFish has made eating fine dining quality sustainable seafood at home into a convenience food!"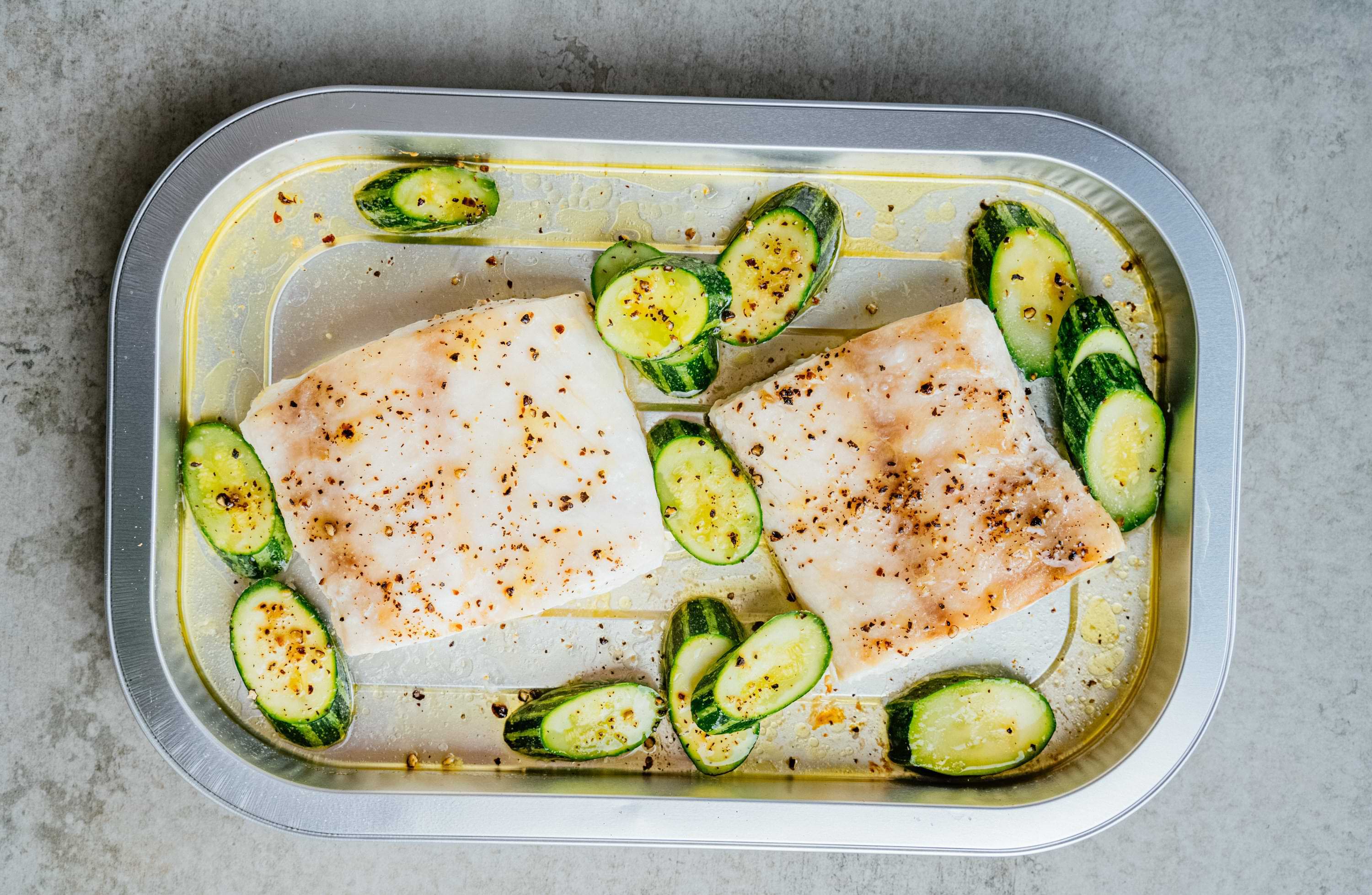 Read more