PureFish Valued Customers - We are currently modifying our PureFish Online Store. Our New Storefront Will Be Launching Soon. Please sign up below to our newsletter to stay up to date on what new ! Thank You - Team PureFish
Sesame Crusted Seared Tuna
January 16 2021
·
January 16 2021
·
Step by Step Healthy Recipes - Ready In Under 20 Minutes
SESAME CRUSTED TUNA WITH SPICY GREENS AND PONZU VINAIGRETTE

Now you can enjoy this restaurant classic at home in just a matter of minutes. We love it for rice bowls, salads, or on its own.
makes 2 servings ready in 20 minutes  
1 Tray PureFish Tuna (or substitute Albacore, Cobia, Mahi)
3 tablespoons high heat oil such as sesame or avocado oil, divided
2 tablespoons White Sesame Seeds
2 tablespoons Black sesame seeds
salt and pepper
FOR THE PONZU VINAIGRETTE:
3 tablespoons ponzu sauce*
2 tablespoons avocado oil
1 tablespoon rice vinegar
FOR SERVING:
2 green onions, sliced thin and soaked in ice water
1 cup fresh spicy greens (arugula, sorrel, dandelion, etc.)
*Buy premade or make an approximated version with what you have on hand: 1 tablespoon soy sauce, juice of one lemon, 1 tablespoon water, ½ teaspoon honey, and a pinch of sea salt.
Step 1 Transfer PureFish Perfect Portion Tray from the freezer to the refrigerator 12-24 hours before cooking to gently thaw the fish. Always keep raw fish refrigerated, and for best texture and taste cook within 4 days of thawing. Remove the PureFish Oven Ready Tray from the refrigerator, peel back the protective film and discard.
Step 2 Brush or drizzle tuna steak with 1 tablespoon of the oil. This will help the sesame seeds stick to the fish while cooking and create a crust. In a shallow dish, combine black and white sesame seeds, and stir to mix. Season the tuna with salt and pepper, and set in the sesame seeds, coating evenly on all sides. (If you prefer not to touch the fish then sprinkles seeds over tuna.)
Pro Tip: Remember to turn on your kitchen fan/vent a few minutes before cooking to create a vacuum.
Step 3 Heat remaining oil in a large skillet over high until it begins to shimmer and smoke slightly. Set the tuna in the pan (making sure not to overcrowd) and cook until the white sesame seeds start to turn golden underneath (around 1 minute) or until you see ¼ of the fish cooked through the side.
Step 4 Carefully flip the tuna and cook for about another minute. Remove from heat just before you reach desired wellness as fish will continue to cook for the next 1-2 minutes off the heat. If you want a raw middle, remove while tuna is visibly rare in the center after flipping.
Step 6 Transfer the tuna to a cutting board and cut into ¼-inch thick slices (against the grain). Plate & drizzle ponzu sauce over tuna. Garnish with green onions and spicy greens.
Serve immediately.
PureFish Makes It Easy.
---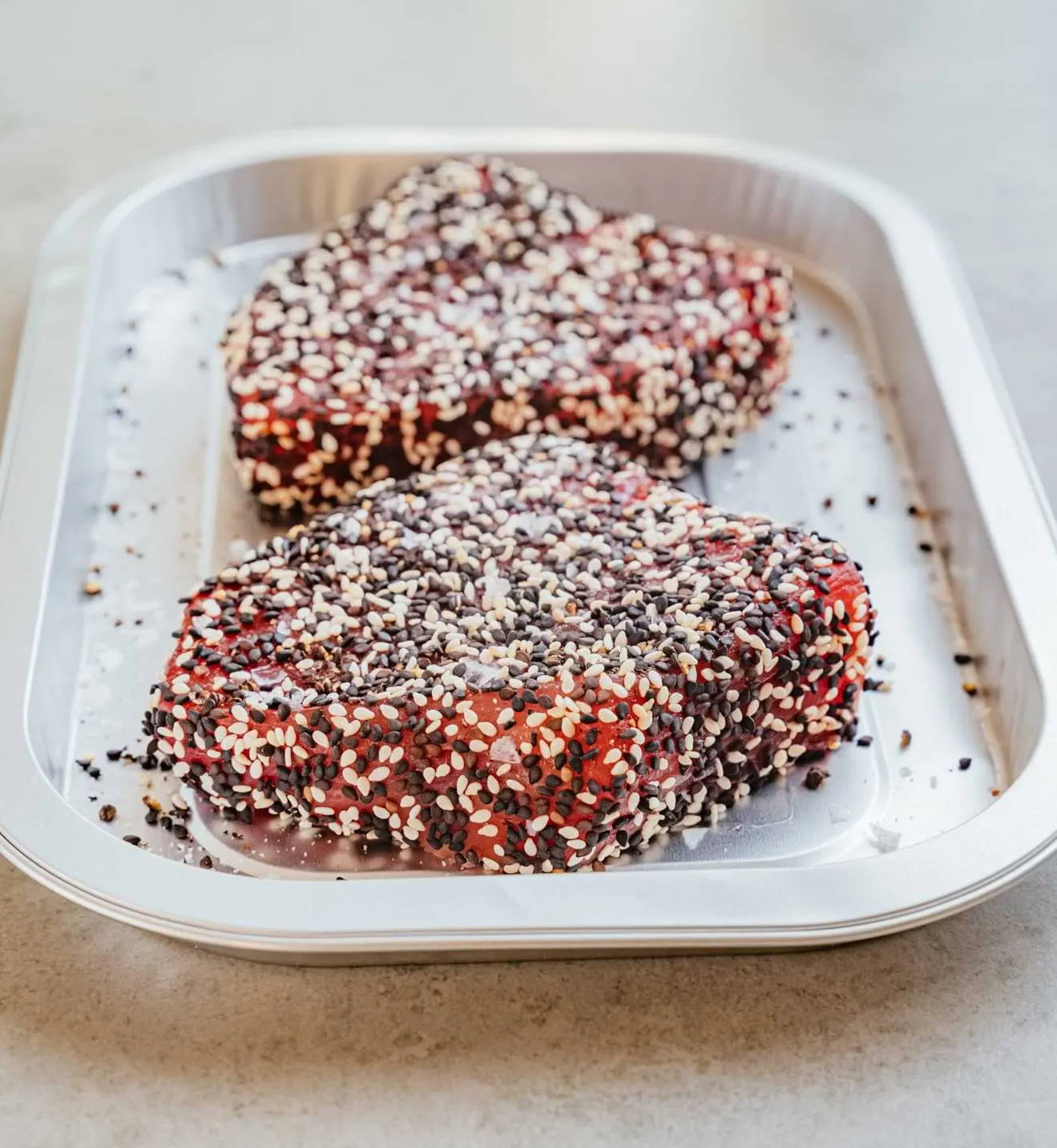 "PureFish has made eating fine dining quality sustainable seafood at home into a convenience food!"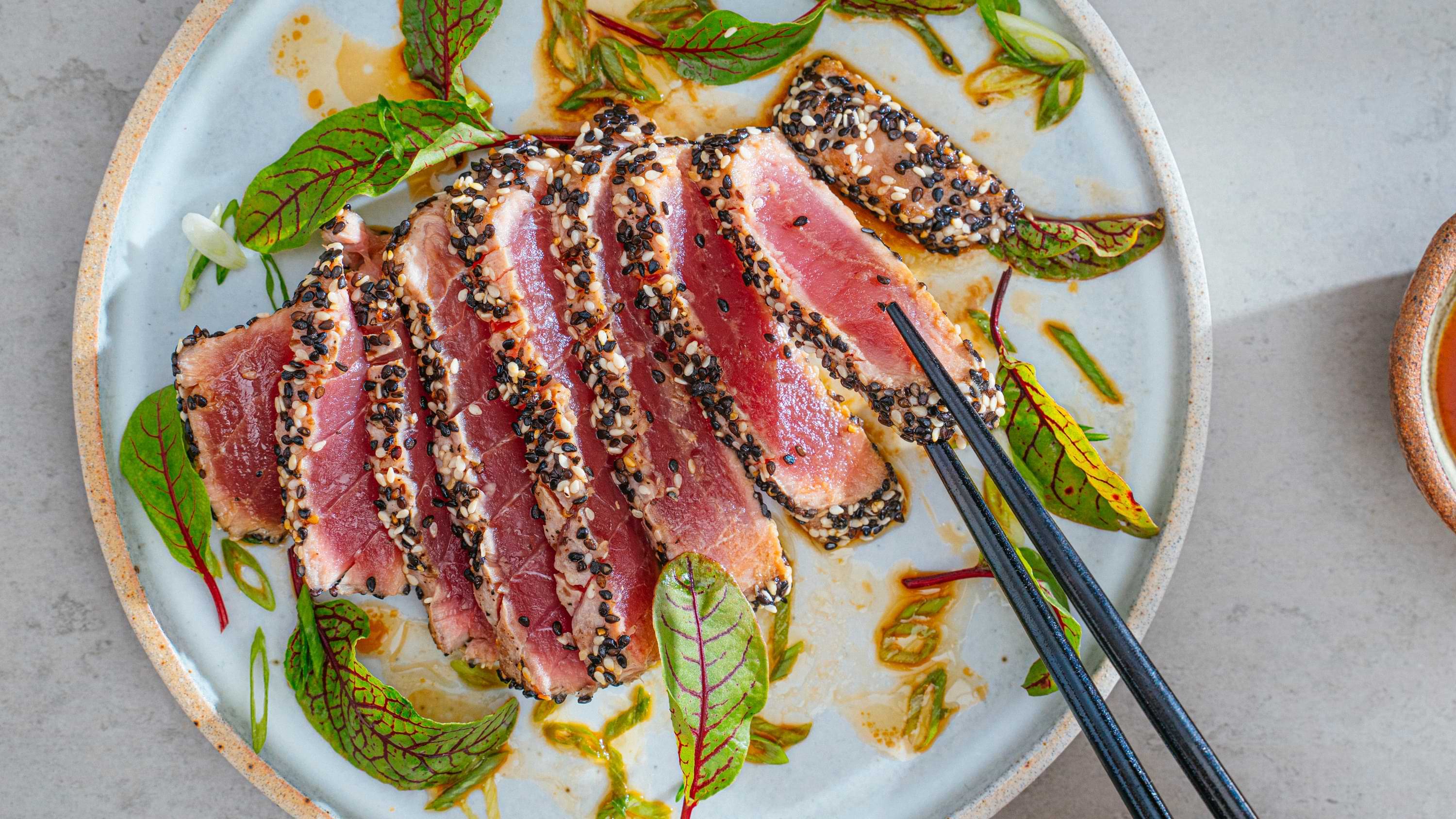 Read more